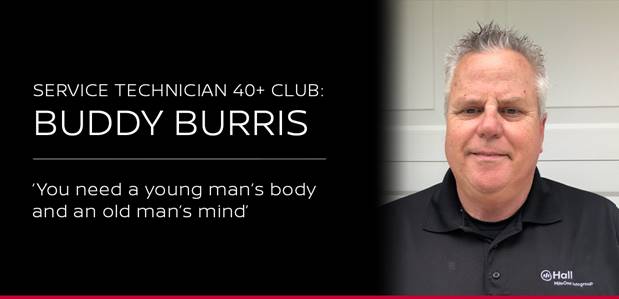 At its core, Hall Nissan Virginia Beach is a family. From our sales showroom to our Nissan service center, we're proud of the community we've created to serve you. The reason why we're able to deliver such great service is because we are staffed by kind, talented individuals. This year, our very own Buddy Burris is celebrating 41 years of tenure in our Nissan service center.
Buddy's Story
Buddy Burris has been working in our service center since 1979. He took an interest in cars in high school while he was working on his own truck, and with a nudge from his father, he ended up taking vocational classes to learn the trade. He learned more while paired up with veteran mechanics on the job, and he took Nissan Technical Training classes that gave him even more knowledge about Nissan vehicles. Now, he's doing his part to keep up as cars evolve, and his commitment to delivering the best possible service to our customers has not wavered. He is the current Shop Foreman, but he's held positions as a master technician, service writer, and warranty administrator.
Take a look at highlights from our exclusive interview:
How do you enjoy serving as Shop Foreman?
"It's a good position. I make a very busy shop move with a nice flow. We've got 13 Techs, six Quick Lube Techs, and six Service Writers. I'm lucky to have two Master Techs who are outstanding, and they make my life easier. They say to be a good Tech you need a young man's body and an old man's mind. I'm 63, so this is the best position for me."
What advice do you offer younger Techs?
"No one is going to hand you anything, but if you put your nose to the grindstone, you can do very well. Go to classes, read all you can. Get your electronics down because that makes diagnosing problems a lot easier."
How did you develop your skills?
"I worked for about six months with two different mechanics before they put me on my own. I learned a lot from them. I was the new guy, so I also went to a lot of the Nissan Technical Training classes. They were in Portsmouth, Virginia, which is only a 20-minute drive."
Do you have a favorite Nissan vehicle?
"Probably the Z. That's how I met my wife and between us we've probably owned half a dozen of them. They were so much fun to drive. I also liked the GT-R. Maybe if I hadn't sent my daughter to graduate school, I could have afforded to buy one!"
Visit Our Nissan Service Center
Congrats to our Shop Foreman, Buddy Burris, on his 41 years of dedicated Nissan service! If you're in Virginia Beach and looking for a Nissan service center where you'll be in good hands, visit our facility and talk to Buddy or one of our many skilled mechanics. We look forward to welcoming you soon here at Hall Nissan Virginia Beach!