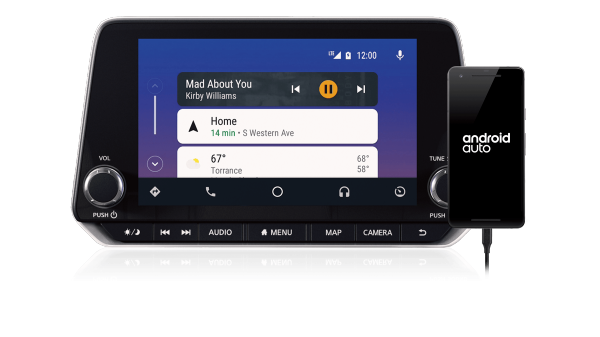 Technology plays a big role in most people's lives, so it's no surprise that car buyers often pay very close attention to the tech features cars have or don't have. Smartphone integration is one area in particular that is on most must-have lists, and this is why many new Nissan models come standard with Android Auto™.
What is Android Auto™?
The Android Auto™ feature in our Nissan vehicles for sale near Norfolk, VA lets you integrate your phone with the infotainment system in your car. This means that all of the apps you use can be accessed by using your vehicle's touchscreen. In addition to being very convenient, this also improves safety, as it means that you won't have to fumble with your phone while you are driving. (People who don't have an Android phone will be happy to know that Nissan cars also integrate with iPhones through Apple CarPlay™.)
Android Auto™ Features
In addition to your apps and other customizations, Android Auto™ comes with several of its own unique features. On the home screen, you can get useful information, such as a weather forecast. It can also help you stay organized about appointments or other things you have going on. The system will even make recommendations for destinations in and around Norfolk. With Android Auto™, you will also get to use some nifty stuff from Google, including Google Maps. This will give you voice-activated navigation and traffic information. And if you like listening to music when you drive, you will have to access the 40 million songs found on Google Play Music.
Want to see exactly what Android Auto™ offers? Visit Hall Nissan Virginia Beach to test it out.