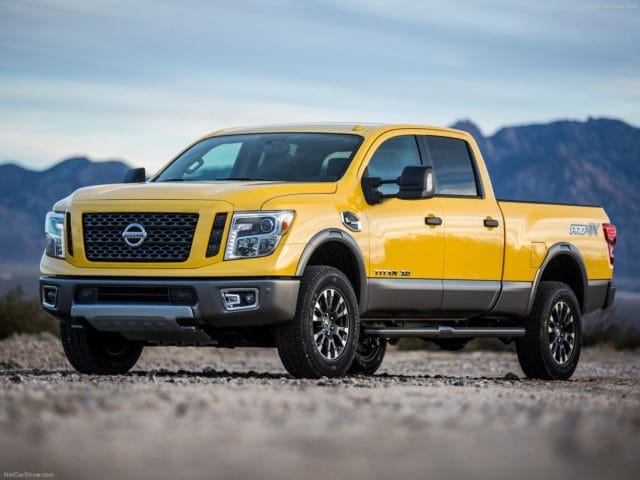 Standing for eXtra Duty, the 2018 Nissan Titan is massive, powerful, spacious and, most importantly, a perfect foil for other big truck brands. With a V8 diesel engine that sounds like a semi-truck, and the driving experience of a semi too, the Nissan Titan XD is truly titanic on the road.
Equipped with a Cummins® 5-liter turbocharged V8 engine, the Nissan Titan XD produces 566 pound-feet of torque, and can tow up-to 12,640 pounds, meaning you'll have enough power to haul your family, plus an elephant. Weighing at least 1,500 pounds less than most light-duty competition, it still manages to top competitors in the power department. For context, the next best light-duty, RAM 1500, produces about 410 pound-feet of torque, compared to the Nissan Titan's 566.
The truck is also equipped with a heavy-duty six-speed Aisin® automatic transmission, built exclusively for the Nissan Titan XD, and perfect for off-roading. Of course, the 4WD can be switched off to make the open road a bit more manageable, but you can guarantee you will be towering over most other drivers.
The Nissan Titan XD interior is exactly what a workhorse should be, featuring the now-standard 7-inch infotainment touch-screen which is flanked by standard, yet pronounced, cabin controls and steering wheel buttons. The back seats can be folded into the floor to allow for even more room, and the bed is equipped with storage boxes and a retractable step. The Nissan Titan XD bucks the other bells and whistles of a luxury vehicle though, because this truck is built to work, and working should be efficient and streamlined.
At Hall Nissan Virginia Beach, we love to support the hard workers out there, so visit us at our Virginia Beach location to test drive a Nissan Titan XD today.